Pediasure Complete Grow And Gain Chocolate 2022
Available in 2 delicious flavours in a convenient, reclosable bottle. Ready to serve with meals or as a snack.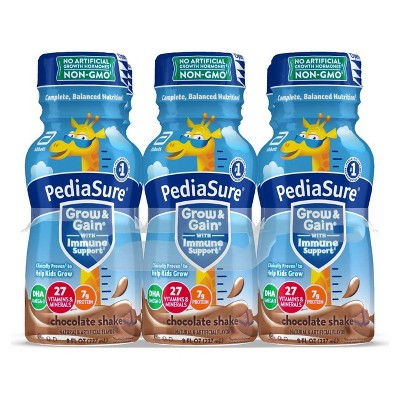 What is the purpose of pediasure grow and gain chocolate?
Pediasure is intended to help those who have an insufficient food intake and poor appetite. Illness, injury, surgery, or aging may cause poor appetite due to eating, chewing, and swallowing difficulties.
The inability to get good nutrition over a prolonged time may lead to weight loss and malnutrition.
Is pediasure grow and gain chocolate healthy?
While it's packed with vitamins and minerals, the calories in PediaSure mostly come from sugar and artificial flavours, so it's not the healthiest choice of beverage.
PediaSure grow and gain chocolate has been clinically shown to help kids grow out of at-risk weight-for-height percentiles (5th-25th percentiles) in just 8 weeks with 2 bottles of PediaSure a day.
Over half of the children grew out of at-risk weight-for-height percentiles. They reached improved height and weight-for-height.
Pediasure may be an effective nutritional supplement to help adults gain weight. Alongside its calories and protein, it provides 27 vitamins and minerals, as well as DHA and lutein. These nutrients aid bone, immune, brain, and eye health.
PediaSure Grow And Gain Chocolate is clinically proven* nutrition to help kids grow and a delicious supplement for kids falling behind in growth.
Every great-tasting shake provides 7g of protein and 27 vitamins and minerals, including 7 key nutrients for immune support.
PEDIASURE GROW AND GAIN CHOCOLATE is a source of complete, balanced nutrition especially designed for children 1 to 13 years of age.
May be used as the sole source of nutrition or as a supplement. For oral or tube feeding. Use under medical supervision.

Features and Benefits:
Complete, Balanced Nutrition: Nutritional snack for kids, high in protein with 26 vitamins and minerals while providing as much calcium as 1/2 cup of yogurt. Contains 9.3 g of protein per bottle and can be used to provide protein at breakfast or as a snack
Kid-Approved Taste: A pediatric shake with a taste kids actually enjoy, recommended for use as part of a healthy diet Perfect toddler snacks for kids who lack variety in their diet, require additional nutrients due to poor intake, or active kids who have highenergy expenditures
Most Recommended: PediaSure Complete is the nutritional supplement that is chosen by more moms and dads and is a #1 pediatrician-recommended brand
Supports Kids' Growth & Development: Clinically proven to help kids grow: see visible results in just 8 weeks, PediaSure promotes healthy weight gain for kids
Ingredients: Water, Sucrose, Corn maltodextrin, Milk protein concentrate, Soy oil, Soy protein isolate, Whey protein concentrate, Short-chain fructooligosaccharides (scFOS), Canola oil, Natural and artificial flavour, Cellulose gel, Medium chain triglycerides, Cellulose gum, Carrageenan, Soy lecithin, Monoglycerides, C. cohnii oil (a source of DHA), M. alpina oil (a source of ARA), MINERALS (potassium citrate, magnesium phosphate, calcium phosphate, potassium chloride, potassium phosphate, sodium chloride, potassium hydroxide, zinc sulphate, ferrous sulphate, manganese sulphate, cupric sulphate, potassium iodide, sodium molybdate, chromium chloride, sodium selenate), VITAMINS (choline chloride, ascorbic acid, niacinamide, DL-alpha-tocopheryl acetate, calcium D-pantothenate, vitamin A palmitate, pyridoxine hydrochloride, thiamine chloride hydrochloride, riboflavin, folic acid, D-biotin, vitamin D3, cyanocobalamin). Contains: Milk, Soy.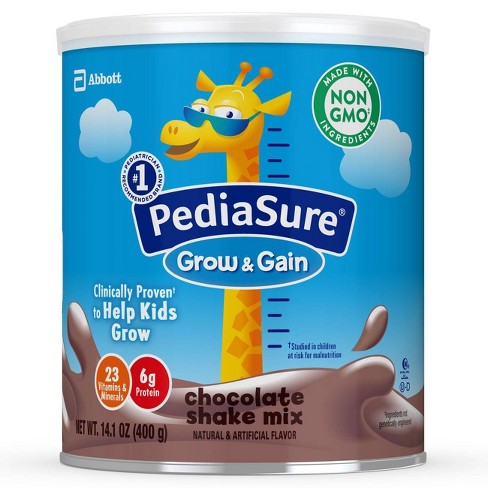 ---
| | |
| --- | --- |
| Brand | Pediasure |
| Flavor | Chocolate |
| Protein | 7 Grams |
| Vitamins And Minerals | 5 Milligrams, 380, 10, 40, 25, 5, 15, 90 Milligrams |
| Item Form | Liquid |
---
About PediaSure Complete Grow And Gain Chocolate
IMMUNE SUPPORT FOR KIDS: Nutrition to help support kids' immune systems with protein, zinc, vitamins A and D, and antioxidants( Vitamins C and E and selenium)

CLINICALLY PROVEN GROWTH: Helps kids catch up on growth in just 8 weeks

COMPLETE, BALANCED NUTRITION: 7g of protein, 32mg of DHA omega-3, antioxidants, and 27 essential vitamins & minerals

MOST RECOMMENDED: pediatrician recommended brand

6 GREAT-TASTING FLAVORS: Vanilla, Chocolate, Strawberry, Banana, Berry, and S'mores
pediasure grow and gain chocolate,
pediasure grow and gain chocolate 24 pack,
pediasure grow and gain chocolate powder,
pediasure grow and gain chocolate shake,
pediasure grow and gain chocolate shake mix,
pediasure grow and gain chocolate costco,
pediasure grow and gain chocolate ndc,
is pediasure grow and gain good for toddlers,
is pediasure grow and gain healthy,
pediasure grow and gain reviews,
pediasure complete grow and gain chocolate chip,
pediasure complete grow and gain chocolate cake,
pediasure complete grow and gain chocolate covered,
pediasure complete grow and gain chocolate mousse,
pediasure complete grow and gain chocolate butter,
pediasure complete grow and gain chocolate ganache,
pediasure complete grow and gain chocolate martini,
pediasure complete grow and gain chocolate lab,
pediasure complete grow and gain chocolate pie,
pediasure complete grow and gain chocolate frostin,
pediasure grow and gain,
pediasure grow and gain reviews,
what is the purpose of pediasure,
does pediasure make you gain weight,
how many pounds should a 8 year old boy weigh,
what kind of people grow chocolate,
how much energy do you gain by eating a chocolate,
what is pediasure,