Buy Pediasure Plus with Fiber Vanilla Online Now

Pediasure Plus with Fiber Vanilla is formulated for children 1 to 13 years of age with increased nutrient needs and/or at risk of malnutrition.
Suitable for oral as well as tube feeding. Use under medical supervision.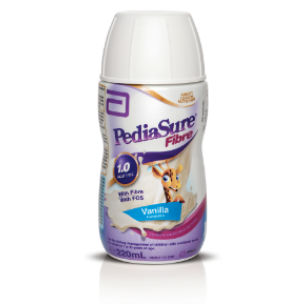 Pediasure vanilla benefits:
Formulated with 37 vital nutrients, PediaSure is clinically proven to help increase height and weight, reduce number of sick days, and reduce incidence of infection. PediaSure also contains nutrients such as Taurine, Choline and Omega 3 and 6 to support mnd development in children.
Nutritional drink for kids with 353 calories per 235mL serving
9.9 g of protein per 235mL serving
Supplement with great taste: provides 27 vitamins and minerals
Pediatric drink for children who may benefit from extra calories and dietary fibre.
Can be used as a supplement or as a sole source of nutrition
Ingredients: Water, corn maltodextrin, high oleic safflower oil, sodium caseinate, soy oil, sucrose, modified coconut and/or palm kernel oils (medium chain trigly cerides), calcium caseinate, whey protein concentrate, potassium citrate, short chain fructooligosaccharides, uncontaminated modified oat hulls, soy cotyledon fibre, natural and artificial flavours, calcium phosphate, magnesium chloride, gum arabic, potassium phosphate, monoglycerides, soy lecithin, sodium carboxymethyl cellulose, sodium citrate, choline chloride, sodium chloride, ascorbic acid, taurine, m-inositol, potassium chloride, ferrous sulphate, zinc sulphate, niacinamide, L-carnitine, dl-alpha- tocopheryl acetate, calcium d-pantothenate, cupric sulphate, citric acid, thiamine hydrochloride, pyridoxine hydrochloride, riboflavin, manganese sulphate, vitamin A palmitate, folic acid, biotin, potassium iodide, chromium chloride, sodium molybdate, phylloquinone, sodium selenate, vitamin D3, cyanocobalamin.
May Contain: Potassium hydroxide. Contains: Milk, soy.

Not for parenteral use. For children under 1 year of age, consult a physician or qualified health care professional prior to using PediaSure Plus.
What does Pediasure Plus with Fiber Vanilla with fiber do?
Pediasure Plus with Fiber Vanilla aids with development and digestive health.
Each tasty shake has 3g of fiber to help support your child's digestive system along with 7g of protein, 27 vitamins and minerals, including 7 essential components for immune support.
Is Pediasure Plus with Fiber Vanilla good for kids?
Pediasure Plus with Fiber Vanilla is a source of comprehensive, balanced nourishment that is especially made for kids between the ages of one and thirteen.
may serve as a supplement or the only source of nutrition.
For kids up to age 13, Pediasure Plus with Fiber Vanilla is a good source of protein and contains 27 vital vitamins and minerals.
If your child is under 2 years old and you're considering about starting them on PediaSure, make sure to consult with your doctor first.
Can Pediasure Plus with Fiber Vanilla replace a meal?
"Pediasure Plus with Fiber Vanilla is a full, balanced diet that contains everything kids need.
There is nothing else they require.
Pediasure Plus with Fiber Vanilla is a meal substitute.
In addition to or between meals, Pediasure Plus with Fiber Vanilla should be consumed as part of a healthy, balanced diet.
pediasure plus fibre vanilla,
does pediasure have fiber,
vanilla pediasure ingredients,
pediasure vanilla benefits,
how much fiber is in pediasure,
pediasure 0-6 months,
pediasure good or bad,
does vanilla ice cream contain fiber,
what are all the innocent smothies,
what is the purpose of pediasure,
is vanilla extra a mixture or pure substance,
is the guy in the fiber plus commercial related to,